Birding in Rwanda: Birdwatching Safaris and Tours Rwanda
Birding in Rwanda: Birdwatching Safaris and Tours Rwanda – Rwanda is a birding haven offering some of the best birding experiences on African continent, Rwanda is a habitant to over 703 bird species with 29 Albertine rift endemic and Lake Victoria Basin endemics  habiting in the savannah and montane vegetation covers dominating most parts of the country.
Where to go birding in Rwanda
Rwanda consists of many birding sites where to go for birding safaris, these destinations include
Kigali city
Kigali city is the capital city of Rwanda and beautiful destination for Rwanda safaris including bird safaris, this city is famous for being the cleanliest in Africa and known for its numerous hills that is why it referred to as the city of rolling hills.
Kigali city is a beautiful urban birding destination with numerous birding sites such as Lake Nyarutarama "Lovers Lake" situated on the edge of Kigali golf course' Kigali is a home to over 100 bird species which are residents to the city, these birds include White-collared Olive back, African Swamphen, Grey-headed Bushshrike, Bat Hawk, Narina Trogon, Lesser Honeyguide, Brown-backed Honey bird, Black Cuckoo-Shrike, Olive-bellied, Red-chested Sunbird and Bronzy Sunbirds, African Goshawk, Palm Nut Vulture, Crested Barbet, Grey-backed Fiscal, Rüppell's Starling and Black-headed Weaver and many more.
Birding in Kigali city is exceptional as you get to enjoy the city vibe while enjoying views of many birds.
Volcanoes National Park
Volcanoes national park is the most popular national park and Rwanda safari destination in Rwanda located in north-western province of Rwanda in Musaze formerly known as Ruhengeri, this park spans around an area of 160 square kilometers dominated by rainforests and encompasses on 5 of 8 Virunga volcanoes (Karisimbi, Bisoke, Muhabura, Gahinga and Sabyinyo). Though volcanoes national park is famous for mountain gorillas, it is one of the best bird habitats in Rwanda hosting over 200 bird species with 17 species endemic to the park thus making birding a memorable experience.
Birding in Rwanda's volcanoes national park offers sights of many birds such as Grauer's rush warbler, Rwenzori batis, Rwenzori turaco, Rwenzori double –collared Sunbird, handsome francolin, strange weaver, dusky crimson-wing, collared Apalis, red-faced woodland warbler and Archer's ground robin and many more.
Birding in Volcanoes national park is a great Rwanda safari to do while on a visit to Rwanda.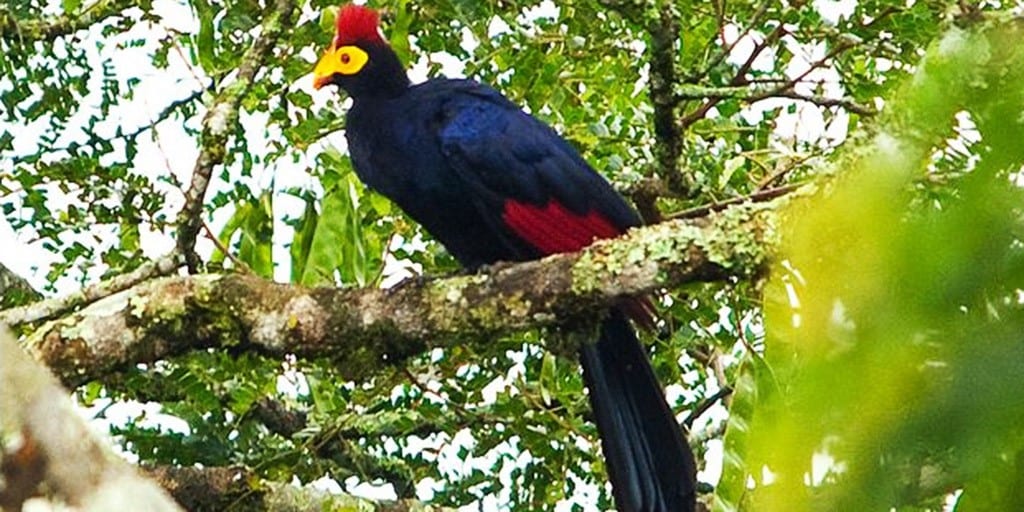 Volcanoes National ParkVolcanoes National Park is a famous safari destination in Rwanda and a great destination for Rwanda birding safaris, Nyungwe forest national park protects the largest remaining tract of montane rainforests in East Africa which is an excellent habitat to birds.
This destination is located in the southwestern Rwanda and it stretches along the borders of Rwanda and Burundi covering an area of 970 square kilometers.
Nyungwe forest national park boost over 310 bird species recorded to be found in the park, these bird species include Albertine Rift endemics and they include Albertine Owlet, Rockefeller's Sunbird, Great Blue Turaco, Ross's Turaco, The Paradise Flycatcher, The Gigantic Forest Hornbill, Rwenzori Turaco, Green Pigeon, Red-Breasted Sparrow Hawk, The White Headed Wood Hoopoe, Collared Apalis, Francolins, Red-Faced Woodland Warbler, Mountain Masked Apalis, Regal Sunbird, Blue-Headed Sunbird, Purple-Breasted Sunbird, Dusky Crimsonwing, Rwenzori Batis, Strange Weaver and many more.
A huge bird concentration in Nyungwe forest national park make birding in Nyungwe forest national park and amazing experience, these birds are spotted thus a memorable birding safari in Rwanda.
Akanyaru wetlands
Akanyaru wetlands are a very rewarding birding destination in Rwanda located in the south of Rwanda north-east of Butare on the international border of Burundi and lies close to Rwihinda Lake Nature Reserve of Burundi.
Akanyaru wetlands are dominated various vegetation covers such as marshes and swamps consisting of istia stratiotes, Leersia hexandra and Oryza barthii with  intermediate stages of a mixture of Typha australis, Miscanthidium violaceum, Cladium jamaicense and many more.
Akanyaru wetlands habit over 54 bird species inhabiting in the wetlands including migrants and migrant and globally threatened species, 3 species of Afrotropical Highlands biome and 11 species of Lake Victoria Basin biome.
Birds in Akanyaru wetlands include Papyrus Gonolek, Lesser Kestrel, Pallid Harrier and the Madagascar Squacco Heron, lesser swamp warbler, great snipe, pallid Harrier, Long-billed Pipit, Speckled mousebird , Spectacled Weaver, Spur-winged Goose, Squacco Heron, Swamp Alseonax, Tambourine Dove Turtur, Tropical Boubou , Wattled Lapwing , Western Marsh-harrier, White-browed Coucal, White-browed Robin-chat, White-collared Olive back, White-faced Whistling-duck, White-headed Saw-wing, White-winged Widowbird, Wire-tailed Swallow, Woodland kingfisher, Yellow Bishop Euplectes, Yellow-backed Weaver Ploceus, Yellow-billed Duck, Yellow-billed Stork, Yellow-throated Greenbul, Yellow-throated Longclaw and many more.
Akagera National Park
Akagera national park is the only savannah national park in Rwanda located in the eastern region of the country, Akagera national park is dominated by savannah landscapes consisting of acacia and bush with patches of open grassland and swampy lakes.
This park covers an area of 2500 square kilometers and it derives its name from Kagera River which flows along the eastern boundary of the park feeding Lake Ihema and other smaller lakes found in the park.
Akagera national park is one of the 3 important birding areas in Rwanda which makes it a great birding destination in Rwanda, this park is a habitat to over 500 bird species such as Papyrus Canary, Shoebill, Papyrus Gonolek and Carruther's Cysticole Amur falcon, Beaudouin's snake eagle, Blue-shouldered robin-chat, Booted eagle, Brown-chested lapwing, Cabanis's bunting, Crested barbet, Denham's bustard, Dimorphic egret, Eleonora's falcon, Grasshopper buzzard, Northern brown-throated weaver, Red-faced barbet, Red-winged francolin, Ring-necked francolin, Shelley's francolin, Shoebill, Short-tailed pipit, Slate-coloured boubou, Sooty falcon, Souza's shrike, Striped pipit, Tabora cisticola, Western reef heron, White-winged swamp warbler, Yellow-bellied Eremomela and many more.
The many colorful bird species in Akagera national park make birding experience a memorable one.
Rugezi Marsh
Rugezi Marsh is Rwanda's only RAMSAR site located in the northwest Rwanda bordering Lake Nyagafunzo in the south region of the park and near Lake Burera close to Uganda border, this marsh is a home to a variety of bird species inhabiting in the marshes.
These birds include Grauer's Swamp Warbler, Grey-crowned Cranes, Papyrus Canary, Papyrus Yellow Warbler, White-backed Duck, Lesser Jacana and many more.
Lake Kivu
Lake Kivu is a very is a very famous destination in Rwanda for both vacation and birding safaris, lake Kivu is one of the greatest lakes in Africa and Rwanda situated along the border of Rwanda and Democratic republic of Congo in the western corner of Rwanda covering an area of 27000 square kilometers.
Lake Kivu stretches through Cyangugu, Kibuye and Gisenyi, the lake is a habitat to over 750 bird species which are spotted on the shores of the lake while on birding safari in Rwanda.
These birds include Striated Heron, Black-headed Heron,Hadada and Sacred Ibis, Little bee-eater, African Pied Wagtail, Scarlet-chested,Red-chested and Variable Sunbird, Black-headed Weaver, Spectacled Weaver, Holub's Golden Weaver, Red-billed Firefinch, Common Waxbill, Yellow-bellied Waxbill, Crimson-rumped Waxbill, Bronzed Manakin and Yellow-fronted Canary and many more.
Nyabarango river wetlands
Nyabarango river wetlands are a great birding destination in Rwanda, these wetlands are situated around River Nyabarango the longest river in Rwanda covering an area of 142.62 square kilometers.
Nyabarango river wetlands are located south east of Rwanda in Kigali, this wetland hosts a wide range of bird species and these include Madagascar Squacco Heron, Northern Brown Throated Weaver, Carruthers' Cisticole, White Winged Scrab Warbler and many more which are seen while on a Rwanda birding experience.
When to go birding in Rwanda
Birding in Rwanda is goof throughout the year, however the best Rwanda birding safari is in the period of December to February. In this migratory bird species arrive in the numerous Rwanda birding destinations to join resident bird species which makes it the best time for bird watching in Rwanda.