3 days Murchison falls Safari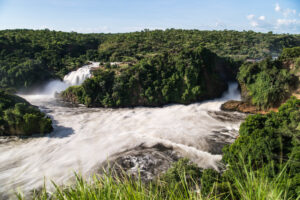 3 days Murchison falls Safari takes you for 3 days and 2 nights at Murchison fall national park  Located  north of the capital, Murchison falls in Uganda is the   largest and largest national park, and how big is Murchison falls national park, Murchison falls measuring approximately 3850 square kilometers. The park was previously known as Kabalega National park, diversity of fauna and flora with a number of animal and plant species, with grounding gestures of bird species that are suited to savannah wood and grassland with  wildlife like lions, zebras, giraffes, snakes, leopards, Buffaloes, hippos, among others. Murchison Falls Safari costs 40 USDS for Non Residents, 30 USDS for foreign residents,  20 USDS for children and 20,000 for  all East African citizens for Murchison falls national park entrance fee
During the tour be excited to observe the running waterfalls, hiking from the top of the falls, boat cruise and ride experience on the Nile river, taking photos, game drives among others.
Highlights of the activities
A tour drive to and from Kampala capital.
Evening game drives.
Night drives.
Morning drives.
Boat cruising and rides.
Game park walks.
Detailed itinerary  for 3 days Murchison falls Safari
Day one of your 3 days Murchison falls Safari, chosen hotel or apartment in the capital after taking your morning breakfast, our company will contact you to prepare for the trip and then will send our guide to meet you and be briefed about the whole trip to Murchison falls national park in a 3-day itinerary. You will start immediately at 7:00am from Kampala then through Luwero district where you will have a lunch stopover  then proceed to masindi town and soon to the park, at the park you will be ushered in at the entry gates. Will then proceed to our booked accommodation places for dinner with relaxation and a night rest.
Accommodation facilities;
Heritage safari lodge, hornbill lodge,
Paraa safari lodge, chobe lodges,…..
Day two (2) of 3 days Murchison falls Safari takes At your destined Murchison falls safari lodge accommodation facility having early morning breakfast with warm tea at around 6:00 am, our guide assisted by the game ranger will pick you up for the drive. The morning drive is very good for sightings of predator animals and primates that keep looking for food all night then return to their hideouts/homes in the early morning.
Will also explore the Nile river that crosses through and divides the park into the southern and the northern wing, to see wild animals like lions, elephants, giraffes, uganda kobs, antelopes and among others.
Meanwhile around 12:30 pm you will return to the relaxation places to have your meals for lunch and also have little time to refresh and relax. After that you will proceed again to see the falls at the best spot on Victoria Nile where you will be able to take photos and to see a number of wildlife species. At the river you will still be able to see the crocodiles of the Nile, buffaloes, elephants, hippos, and other animals at the banks drinking water.
The cruising would take some hours and then you're also close to the source where you can hike to the top of the falls, with all that venture you will return to the lodges to have dinner and also rest for a night.
The last day of your Murchison falls safari Uganda
Day three:  have your last game drive early in the morning, take your early morning breakfast and get prepared for the game drive with the Rangers and the company guide. You will have another chance to see more species of animals and plants with the diversity of bird species during your 3 days Murchison falls Safari.
Have the last game drive on Victoria Nile and take pictures of the falls while riding, approximately to 12:00pm return to the accommodation facilities to checkout.
Drive back to Kampala as you have a stopover in Masindi town for lunch then proceed to the capital, however on your way back you are advised to support the natives by buying on them some materials like craft art and eats. Proceed to the hotel or any preferred destination in Kampala. End of 3 days Murchison falls Safari takes, we do  recommend  for 4 days 3 nights Murchison falls national park safari as well
3 days Murchison falls Safari Includes
Park access fees.
Accommodation.
Guide.
Meals lunch, dinners.
Vehicle.