4 days Rwanda Gorilla Trekking and Dian Fossey hike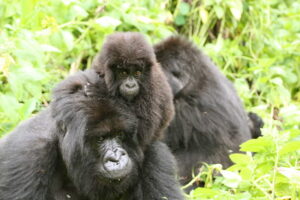 4 days Rwanda Gorilla trekking safari and Dian Fossey hike is an ideal package for mountain gorilla trekking and dian fossey tomb hike activities, this Rwanda gorilla trekking tour package offers a chance to visit the mountain gorillas in the Volcanoes national park and interact with the nature giving you a full hour of experience on Rwanda gorilla treks . the great chance to visit Dian Fossey hiking center seeing the graveyard of the historical American researcher who was so committed on researching about the Mountain gorillas.in Rwanda
Highlights of this itinerary
Day 1: Transfer from Kigali to Volcanoes national park
Day 2: mountain Gorilla trekking
Day 3: Dian Fossey hike and cultural tour
Day 4: Return to Kigali
Detailed itinerary
Day One : Transfer from Kigali to Volcanoes national park
Upon arrival at the airport our drivers will pick you up drive you through the KIgali city where you will be able to see a variety of beautiful sceneries like see the capitals face, markets, roads, hotels and museum. after a short capital trip will have lunch at a hotel from where we will embark on our journey to Volcanoes national park, at arrival at the park will check in at the lodge where you will have dinner and a sleepover stay for the night.
Accommodation options
Budgeted – Muhabura hotel
Mid range – Da vinci lodge
Luxury – Mt gorilla view lodge
Day Two : Mountain Gorilla trekking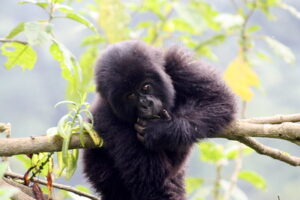 On this second day of our package of 4 days Rwanda Gorilla trekking and Dian Fossey hike safari, as you wake up early in the morning take your morning breakfast, pack up some snacks and drinks then wait for our driver to pick up with the ranger. You will be briefed on the rules and regulations  for Rwanda gorilla trekking, in gorilla fields about the do's and don'ts  as they inform to you what to expect. After the brief you will be escorted by the armed ranger as we penetrate through the forests of Volcanoes national park, you will spend at least an hour interacting with the Gorillas while taking photos without flash lights that could scare the gorillas or even intimidate them to become aggressive. After the trekking then will come back at the lodge for dinner and a night stay.
Full board – meal plan
Day Three : Dian Fossey hike and Cultural tour
The 3rd day of our package after the morning breakfast at the lodge our drivers will take you to the park headquarters where will set for hike through  the forest leading to the Dian Fossey's graveyard where our guides will give you simple history about her and why she was buried in the midst of the forest in Volcanoes national park, then will head to the headquarter for lunch. In the afternoon after meals expect the most amazing experience of visiting the local communities on the cultural tour, you will be amazed with the dressing codes, language, cultural dances, songs and among other art crafts then return at the lodge for dinner and night rest.
Day Four : Return to Kigali
On the last day of the 4 days Rwanda Gorilla trekking and Dian Fossey hike safari we expect you to have a relaxed breakfast at the lodge as you pack up your belongings, will checkout at the lodge and then will embark on the return journey to Kigali. On arrival in the capital will be dropped off at the hotel or at the airport as you make Rwanda gorilla trekking reviews after your Rwanda gorilla trip
That's the end of our package of the 4 days Rwanda Gorilla trekking and Dian Fossey hike safari
Inclusions
Ground transport
Gorilla trekking permits
Bottled water
Drivers/Guides
Exclusions
Tips
Insurance
Extra accommodation after and before the trip
Personal purchases
Personal tools and materials