3 days Bwindi Impenetrable National park Uganda gorilla safari
3 days Bwindi Impenetrable National park Uganda gorilla safari, Bwindi impenetrable national park is located in the south-western part of Uganda at the junction of the plain mountain forest. Uganda's Bwindi impenetrable national park takes you  9hours and 31minutes via mbarara-masaka road and kabala-mbarara road to reach the park. The name impenetrable comes from the extensive stands of bamboo interspersed amongst the larger forest hard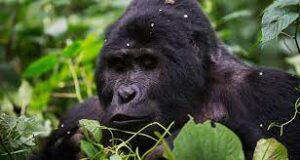 woods and the word Bwindi means a place of darkness. Bwindi forest has more than 160 tree species and over 100 species offered . The park is home to gorilla trekking in Bwindi impenetrable national park and many animals such as elephants, buffaloes, golden cats, bush pigs, duikers, clawless otters, giant forest hogs, civets, many  rodents, side-striped jackals and so on. Bwindi impenetrable national park is also harbors a number of bird species like Black bee eater, Regal sunbird, Black- billed turaco, Brown-capped weaver, Blue headed sunbird, mountain masked apalis, crowned hornbill, Giant kingfisher, and Dwarf honey guide among others
Highlights of 3 days Bwindi impenetrable National Park gorilla safari
Day1: pick up and transfer to Bwindi impenetrable national park
Day2: Gorilla tracking
Day3: Departure to Kampala
Detailed itinerary
Day 1: pick up and transfer to Bwindi National Park
day one of your 3 days Bwindi Impenetrable National park Uganda gorilla safari, depending on your location in Kampala on your first day of 3 days Bwindi impenetrable national park gorilla safari, our driver guide will meet you up and brief you on the tour and after that short briefing you will start your journey to Bwindi national park via mbarara-masaka road where you will en-route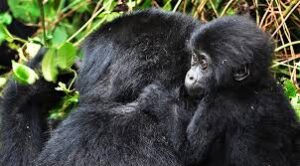 for lunch in mbarara town at Palace hotel mbarara. After a delicious lunch, you will continue with the journey via kabala- mbarara road up to Bwindi impenetrable national park and check in Bwindi backpackers lodge and after that you will have your dinner at the lodge and overnight.
Day2: Gorilla tracking
After a very early breakfast at the lodge on your second day of the 2 days Bwindi impenetrable national park safari, your driver guide will meet you and drive you where you will enable the mountain gorilla where you will first be briefed on the trekking rules, regulations and guidelines while trekking these endangered species. You will be divided in group and a group must of 8 people to view any gorilla family, the trekking takes 1 hour while viewing, observing, taking photos and so on. After the gorilla trek you then meet you driver guide and drive you back to the lodge where you will your dinner and overnight.
Day3: Departure to Kampala
After a very delicious relaxed breakfast at the lodge, you will then check out from the lodge and meet your driver guide who will drive you back to Kampala, but on the way you will have a stopover in Mbarara town for lunch and another stopover at the equator to take photos, buy crafts and souvenirs. From the equator you will continue with the journey to Kampala arriving in the evening and upon your arrival you will be dropped off at your convenient location either at a hotel or Entebbe airport.
End of 2 days Bwindi impenetrable national park gorilla safari
Tour includes
Pick up and drop off to Kampala
Bottled drinking water
Park entrance fee
Full board accommodation
Vehicle and fuel
Tour excludes
Air flight tickets
Visas
Personal expenses like laundry service, tips, drinks, porters and so on.